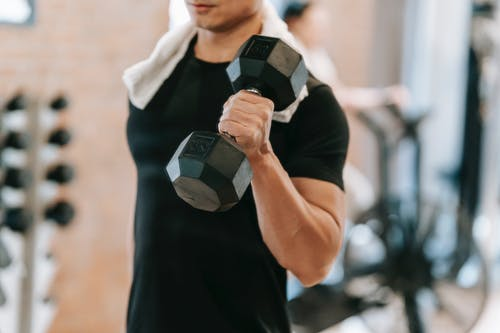 12 Gym Essentials All Men Should Own
Many guys don't put much thought into the contents that make their way into their gym bags. There could be a weeks-old, half-finished protein bar in there, right next to those socks you were supposed to put into the washer a month ago. But of course, some men are meticulous about keeping things organized at all times and have their gym bags loaded with all the essentials.
Believe it or not, those in the latter category can get to their fitness goals at a much steadier pace. This could be due to two reasons; firstly, they have everything they need for a killer workout every day, like some comfortable boxer briefs, for instance. Secondly, with the right gear, clothing, and accessories, they feel confident and are able to put their best foot forward when they hit the gym.
So, if you want to transform your workouts, it's time to get your hands on these gym essentials.
1.
 

The Right Shoes to Make Workouts Easier

Out on the streets, shoes may be just about keeping your feet covered and tying your look together, but in the gym, the right shoes are everything. They can make or break your workout session.

Choosing your shoes for the day depends on what kind of routine you have in mind. While running shoes will be great for the treadmill, cross trainers with a harder heel are best for lifting weights. Wearing the right shoes helps you train better and avoid injuries and soreness in your legs.

 
2.
 

Premium Quality Cotton Underwear to Avoid Jock Itch

Have you ever had a jock itch? It can be painful, uncomfortable, and inconvenient. And it can make your trip to the gym feel like a trip to hell. Luckily, you can easily avoid it by buying better underwear!

Make sure to buy boxers or boxer briefs with a relatively loose fit for the gym and give your boys a breather!

 
3.
 

Grip Gloves for Heavier Workouts

Have you been working out hard? Well, we suggest you switch to working out smarter, instead of harder, for better results. So, continue with your high-intensity workouts, but also start using grip gloves to avoid being hindered by sweat or blisters!

Grip gloves will also make your workouts safer when handling heavy equipment.

 
4.
 

A Water Bottle to Stay Hydrated

Of course, with all those high-intensity workouts, you'd be sweating a great deal, which is why you always need a water bottle at the gym. Staying hydrated is one of the key elements to reaching your fitness goals; don't overlook it!

Make sure to look into the best time to drink water during a workout, i.e., before, during, or after.

 
5.
 

A Headband to Keep the Sweat at Bay

Speaking of water, a lot of it will be coming out of your body in the form of sweat, and you don't want it to make its way into your eyes during your workout.

Therefore, make sure to include a headband in your gym stash—it'll come in handy. Alternatively, you could use a bandana, which would look much cooler!

 
6.
 

Deodorant to Stay Fresh

Workouts are great because they leave you feeling fresh and energetic, but there's a downside—you smell bad post-workout. There's just no nice way to put it—gyms can start smelling horrible during busy hours, all because some people refuse to use a magical thing called a deodorant.

So, in case it wasn't obvious by now—a good deodorant is a must-have gym essential!

 
7.
 

Energy Bars to Keep Up Those Energy Levels

The initial energy high you get right after a workout can start wearing off after a bit, and this is when you need an energy bar to keep things lively.

Make sure you always have energy bars in your gym bag, ready to access quickly in case your sugar levels drop or you feel your energy levels running alarmingly low.

 
8.
 

Some Music to Keep Yourself Entertained

Another must-have to keep things lively at the gym is music. Most gyms have their own sound systems blasting off great workout music, but there's nothing like a personal playlist, right?

If you create your own playlist, you can coordinate songs with different paces to different workout sets and time everything properly. So, once you're at the gym, you can put in your cordless headphones and escape to a different world!

 
9.
 

A Change of Clothes

This goes without saying, but even those just in and out of the gym need an extra set of clothes. Even if you don't plan to shower and change at the gym, extra clothes are a must—what if you split your shorts during a squat?

So, to maintain your dignity and be able to return to the same gym again, you need a change of clothes in your gym bag, even if it lies there, unused forever.

 
10.
 

A Toiletries Bag with All the Essentials
Most people like to freshen up a bit before they head out of the gym, and for that, you need a mini toiletries kit with all the bare essentials like soap, a facewash, some moisturizer, extra underwear, a comb, a deodorant, and a small towel.
Make sure to keep your toiletries bag updated!
11.
 

A Mini Cross Body Bag to Keep Some Gym Essentials Close
Besides a toiletries bag, you may also want to keep a slightly bigger cross-body bag for your phone, charger, air pods, gym membership card, keys, and other essentials that you'd want to keep close in case you don't have access to a locker.
Also, try and fit in a pair of smart flip-flops so that you switch from your gym sneakers to comfortable and airy flip-flops when you head out.
12.
 

A Bomber Jacket to Walk in And Out of The Gym in Style
Let's be honest, we all want to flaunt post-gym looks like those we see celebrities sporting when they're papped outside gyms, right?
Well, it's easier than it looks. All you need to do is invest in a trendy bomber jacket like this one available at Saulho. You can wear it over your regular gym clothes, and voila!—you're ready to be swarmed by paparazzi!
Also, while you're checking out the jacket, also explore our underwear section to find the best men's boxer briefs online. You can also buy fashion accessories for men here, including the cross-body bag, toiletries bag, flip flops, and bandanas featured above!
Enjoy exploring the best store for men's accessories and clothing!